York's a great place to visit with kids, and it's bursting with fun things to do that are free or cheap. Children are easily pleased, so you really don't need to spend a fortune in York to have a good time – in fact there are lots of things to do that are free or cheap (even by Yorkshire standards, and we do love a bargain). Luckily there are lots of ways to have fun in and around the city, with lots of history to explore, nature to spot, green spaces to discover and unique experiences that you won't get anywhere else and don't require a costly admission ticket. What can you do in York for free? Here's our pick of the best free and cheap things to do in York and beyond that kids will love. You'll find some amazing attractions and museums, wonderful walks and our best ways to have fun and save money on your trip to York.
Top tip – make sure you pick up your FREE Little Vikings Family Card from the Visit York Information Centre on Parliament Street to save even more money on your trip to York. Find all the Little Vikings Family Card discounts and perks here
The best free (and cheap) things to do in York
Free admission for all
1. National Railway Museum
2. York city walls
3. York Art Gallery
4. Little Vikings I Spy Trail
5. York Cat Trail
6. York Museum Gardens
7. Rowntree Park, Homestead Park, West Bank Park
8. The Royal Armouries, Leeds
Free admission for York residents
1. York Minster (adult and child residents go free)
2. York Castle Museum (child residents go free)
3. The Yorkshire Museum (child residents go free)
Free admission, just pay for parking
1. Dalby Forest
2. Bolton Abbey
3. Brimham Rocks
4. Sutton Bank
5. Falling Foss
6. Askham Bog
7. Moorlands Nature Reserve
8. Fairburn Ings Nature Reserve
Tickets valid for 12 months
1. JORVIK Viking Centre
2. The Yorkshire Museum
3. JORVIK Dig – An Archaeological Adventure
4. Barley Hall
5. Murton Park
6. The Deep, Hull
7. York Minster
North York Moors Railway (2023 offer)
---
Admission's free at the National Railway Museum
A visit to the National Railway Museum is a must on your visit to York: it's one of the country's finest attractions and admission is free! There's a changing programme of activities and lots for kids to enjoy, including a small indoor play area and an outdoor one too. Keep an eye out during the school holiday for special activities, often with an engineering focus. Although there are a couple of good quality places to eat, you are welcome to take your own food and drink which helps keep costs down, and there are plenty of places to sit. National Railway Museum, Leeman Road, York YO26 4XJ – Visit the NRM website for more details
---
Little Vikings I Spy Family Walking Trail – Free!
Recommended by The Sunday Times! I spy with my little eye a clock, a cat and a flag! With the help of three children, we've put together a lovely circular route with twenty-two weird and wonderful things to spot along the way. Starting and ending on Museum Street, the Little Vikings I Spy Trail will have you strolling down snickleways (yes, it's a word!), gaping at the city's medieval gates and ambling down the Shambles, ticking off iconic and eccentric landmarks along the way. This new walking trail around York is available all year round – all you have to do is collect the map and get your shoes and coats on! The map should be all that you need – follow the route and see how many things you can tick off. For younger children, why not just do the first ten?
Pick up a map from the Visit York Information Centre on Museum Street or click HERE to download it and print it out.
---
Explore York's City Walls (it's free!)
Why not take a walk around York's city walls? There's almost 3.5km of medieval wall to choose from, all with fantastic views, and it's totally free. If little feet aren't up to a big hike, just choose a small section. Some sections have railings running alongside them but others don't: good to know if you've got a little livewire on your hands. The section from York Art Gallery/Bootham Bar to Micklegate Bar is fully fenced and also has incredible views of York Minster. It's easy to hop off once you've had enough.
---
Pick up a Little Vikings Family Card for offers and discounts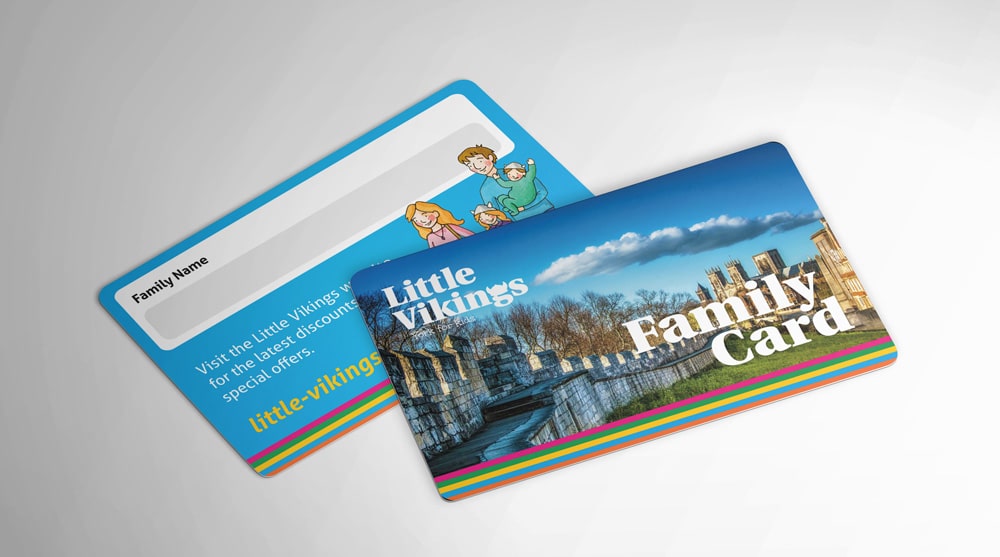 For offers and discounts from a variety of family-friendly businesses in York, why not collect a FREE Little Vikings Family Card? Current stockists include the Visit York Information Centre, York Army Museum and The Blue House Bookshop. You'll access offers from York's attractions, shops, cafes, classes and more – here's what's currently on offer.
---
Kids go free at many York attractions
York is full of exciting and inspiring museums and other attractions that offer a brilliant experience for children, and many can be enjoyed by kids for free. Often the adult tickets are valid for 12 months, so you can return as many times as you like within the year:
– Entry's free for all to York Art Gallery, and there are some fun hands-on children's activities to enjoy. There may be an additional charge for exhibitions.
– Children who are York residents go free at The Yorkshire Museum, and all under 5s go free. Adult tickets to The Yorkshire Museum are valid for 12 months. It's a brilliant pocket-sized museum where you can explore Yorkshire's history, including the ever-popular Jurassic Yorkshire dinosaur exhibition.
– Children who are York residents also go free at York Castle Museum, and under 5s go free too. Explore York's history, walk down the Victorian street and relive the swinging sixties at this fantastic attraction.
– Under 5s go free at the JORVIK Viking Centre, DIG and Barley Hall, and paid tickets are valid for 12 months. That's a whole year of entertainment for the price of entry! All of the JORVIK attractions are excellent and have fun interactive elements for children.
– Accompanying under 16s go free to York Minster, and all York residents with valid proof of address gain entry to York Minster free of charge, too.
– Under fives go free at York Mansion House, and all York residents also get a 50% discount at York Mansion House too.
– Under fours go free at York's Chocolate Story, where you can find out about York's chocolate past and even make your own sweet creation.
– Under twos go free at Askham Bryan Wildlife and Conservation Park
– Staying a couple of days? It's worth considering buying a York Pass from Visit York (21 Parliament Street, York) for free and discounted entry to lots of attractions.
---
Head to York's libraries for free
York has some fantastic libraries that run activities for children all year long that are free or inexpensive, and they are also great places to drop in and browse or grab a coffee and cake. Don't miss York's Summer Reading Challenge either – it's a great way to keep little bookworms reading during the long holidays. Explore York Library, on Museum Street, is the main central library and it's a lovely space for families. It's right next to York Museum Gardens, which is a great place to let kids run about (and again, it's free).
---
Lark about in York's parks, gardens and green spaces where admission's free
York is full of fantastic parks and open spaces, available to everyone at no cost. Take a picnic if you're peckish. For squirrel-spotting and balancing along the ruins (where permitted!), try York Museum Gardens.
There's no play equipment as such, but plenty of history, nature and open space to appeal. Dean's Park, behind York Minster, is a lovely green space too. For swings, slides, ducks and more, try Rowntree Park. We're very fond of Homestead Park, too, with its large play areas, outdoor gym equipment and pop-up Reading Cafe during the spring and summer months. Further afield, other green spaces we love are Askham Bog Nature Reserve, Moorlands Nature Reserve, Hagg Wood and Falling Foss.
---
Stroll through York's streets
Wandering around the city streets is one of the best things you can do in York and it costs nothing. There's plenty to interest everyone, from fantastic street entertainers to genuinely talented buskers to tiny alleyways and secret passages, cobbled streets and grand squares. Marvel at the Minster, take a turn around the bottom of Clifford's Tower, skip along Whip-ma-whop-ma-gate and amble through the Shambles.
---
Spot the furry friends on the free York Cat Trail
One of the best ways to make a walk with kids even more fun is by following a trail, and the York Cat Trail is one of the best. It's free too! Statues of cats have been placed on buildings in York for around two centuries, although statues, since removed or rotted, are thought to date from medieval times. The original cat statues were placed on buildings to frighten away rats and mice which can carry plague and illness. They were also thought to ward off wandering evil spirits and generally to bestow good luck and good health on citizens who needed feline friends to ensure a good night's sleep in old and temptingly chewy timber-framed buildings! Pick up a trail map from the York Lucky Cat shop on the Shambles or download it from their website.
---
Stretch little legs and go for a walk or bike ride
Ducks, otters, swans and even an ice cream boat: there's a lot to spot on a walk along the river Ouse, accessible from York city centre. Alternatively, grab your bikes (or hire them – Get Cycling is a great place for family bike hire, including inclusive options) and enjoy a ride along the cycle tracks (York's solar system trail is very popular). Trips to the great Yorkshire countryside needn't cost much either – pack a picnic, find a free parking space and let the kids run wild. The Yorkshire Dales and Moors and our glorious coast are all great options. Take a look at the Little Vikings Guide to Family Walks in York and Yorkshire.
BEST THINGS TO DO FOR FREE WITH KIDS NEAR YORK
Children go free at Yorkshire Sculpture Park
Another cracking day out, and only adults pay for admission. Tickets should be booked ahead but it's just £6 a ticket and children (under 18) are free. Yorkshire Sculpture Park is a fantastic outdoor day out that inspires (and tires little legs). There are some nice cafes and the Visitor Centre is worth a visit. Yorkshire Sculpture Park, West Bretton, Wakefield WF4 4LG – Visit the website
---
Admission's free, just pay for parking at Dalby Forest
One of Yorkshire's most stunning spots is accessible for just the price of parking (£10 a day). Head out on one of the many trails on foot or by bike and don't miss the epic adventure play area. There's a cafe and loos at the Visitor Centre. Dalby Forest, Dalby Forest Drive, Low Dalby, Pickering YO18 7LT – Visit the Dalby Forest website for more details
---
Just pay for your fruit at The Balloon Tree
A popular spot for fruit picking, there's no admission price for this farm shop with its small play area and animal viewing area. Pumpkin-picking is a favourite in the autumn and local families flock here during the summer months to fill punnets with berries galore. The Balloon Tree, Stamford Bridge Road, York YO41 1NB – Visit The Balloon Tree website for more details
---
Free entry at The Royal Armouries in Leeds
One of Leeds' top attractions, and the national museum of arms and armour, The Royal Armouries is free to enter. There's always something new to see at the Royal Armouries and there are plenty of hands-on activities for children, with lots of special holiday activities too. The Royal Armouries, Armouries Dr., Leeds LS10 1LT – Visit The Royal Armouries website
---
Please note that things can change so check the details before you travel.